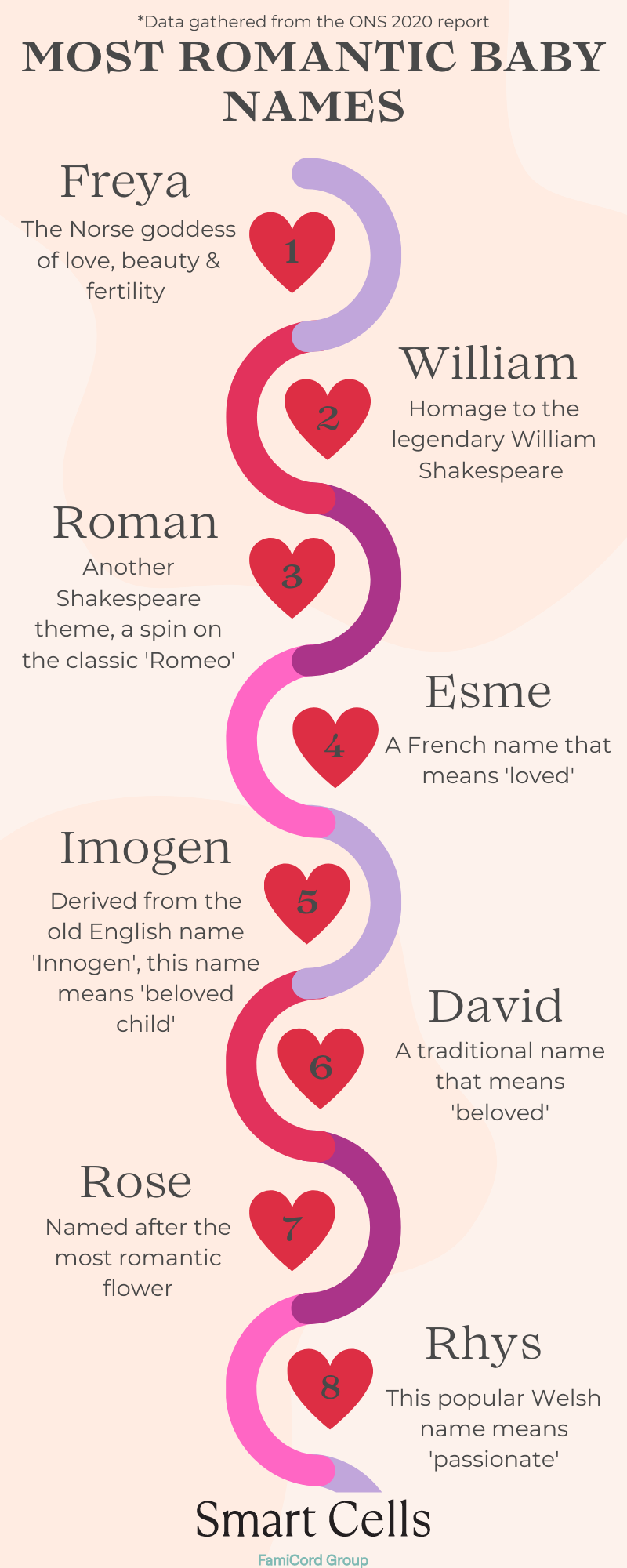 مع اقتراب عيد الحب، وانتشار الحب في الهواء، ما هي أفضل طريقة للاحتفال بهذا العيد الرومنسي من إلقاء نظرة على أشهر أسماء الأطفال التي تعني الحب.
إذا كان طفلك على وشك الولادة في شهر فبراير، قد ترغب بالتفكير ببعض
We have looked into data provided by the Office of National Statistics to reveal the most popular baby names that mean love*:
Girl Names
Freya – this beautiful name is the Norse goddess of love, beauty and fertility. This name ranked 12th position for baby girls with an impressive 1982 babies being named Freya in 2020.
Esme – becoming increasingly popular, Esme is of French origin and has the meaning of 'loved'.
Imogen – thought to have derived from the less common old English name 'Innogen', Imogen means 'beloved child'. Slightly less common than Freya and Esme, Imogen ranked number 52 in 2020 with 932 little girls given this name.
Rose – although this name is not directly related to a meaning of love, roses are considered to be the most romantic flower so this name is ever so fitting. Rose came in at number 63 with 803 little girls given this name in 2020.
If something a little more unusual is what you're looking for then here are a few of our favourites:
Amora – this name literally means love and we think it's just delightful. With only 34 babies claiming this name in 2020 it's unlikely there will ever be another Amora in your child's class at school!
Valentina – although this name actually means 'healthy and strong' we think this name is perfect for a little girl born during the month of love.
Suki – this Japanese name means 'loved one' and we think it is just lovely. Even less common than Amora, only 28 babies were given this name in 2020.
Boy Names
William – this traditional name ranked at number 20 with 2215 baby boy's given this name in 2020. Although it does not directly mean love or have any connections to Valentine's Day this name plays homage to the great William Shakespeare who is renowned worldwide for writing some of the greatest love stories and poems in history, it doesn't get much more romantic than that!
Roman – carrying on with the Shakespeare theme, Roman is a variation of the well-known Romeo and scored an impressive 28th position.
David – in at 60th place for 2020, David means 'beloved', so if you're wanting a more traditional name this could be the one for you.
Rhys – this popular Welsh name, scoring at number 225, means 'passionate'; what a perfect fit for Valentine's Day.
Again, if something a little less popular is what you're after then here are some of our favourites:
Davis – with only 3 baby boy's given this name in 2020 it is definitely not on everybody's list, this unusual name could be the perfect adaptation of more commonly known David and literally means 'beloved'.
Valentino – we had to mention the boy version of Valentina, this name just sounds romantic and ranking at number 766 it's unlikely your little Valentino would meet another. Tino for short is also dreamy!
Carwyn – this Welsh name means 'love, fair and blessed' and we think it's just lovely for a baby boy or girl!
*Office of National Statistics data from 2020.