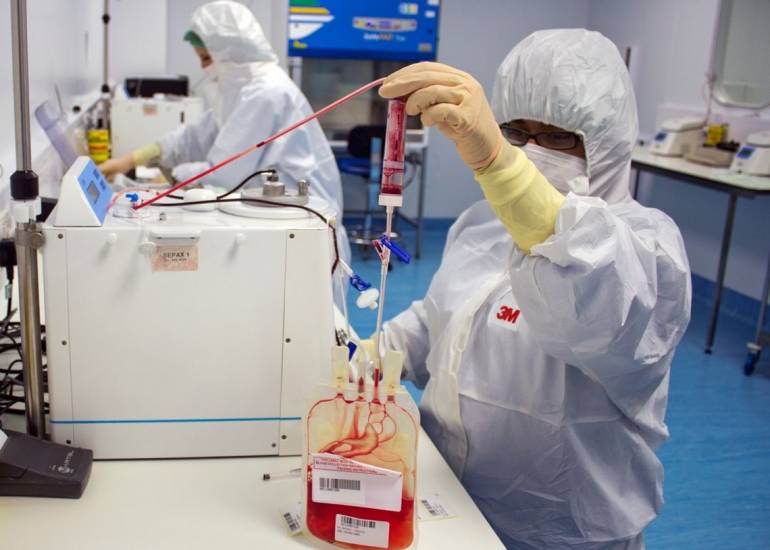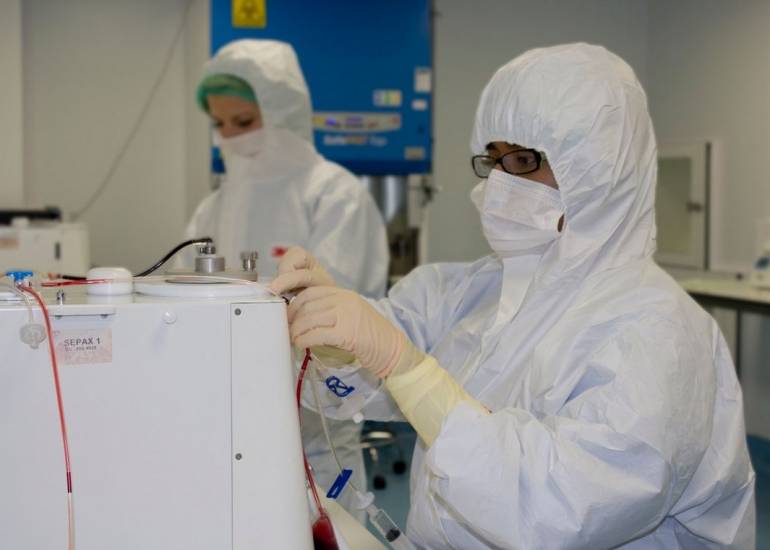 THE VAST MAJORITY OF PUBLIC AND PRIVATE CORD BLOOD BANKS FREEZE UNITS IN SEALED BAGS AND HAVE DONE SO FOR MANY YEARS FOR A NUMBER OF WELL-ACCEPTED REASONS.
The clinical grade bags that are used are manufactured for the purpose and are optimised to allow efficient cryopreservation, storage, thawing and handling with minimal risk to products.
Advantages of processing and freezing: 
Optimal
Quality control
Sterile
Freezing in vials is less optimal than in bags which are frozen inside metal cassettes that enable a freeze profile for cells that are more uniform than for vials.
The freezing bags are equipped with extra long tubing for drawing representative quality control samples into integral heat-sealed tube sections. This is not possible with vials.
The tubing on bags is suitable for sterile connection to processing kits and is provided with connectors, roller clamps and injection ports and multi-way taps which allow closed system transfer of processed cord blood and cryoprotectant additives to the final freezing bag. Bags, therefore, offer a flexible closed system, unlike screw top vials which pose a contamination risk during handling, storage and thawing. Screw top vials require technicians to syringe products into the vials. This is an outmoded approach which is typically reserved for research grade cellular products.
Bags can be fully sealed and vacuum packed into protective overwrap bags specifically manufactured for the purpose, that ensure no risk of contamination or ingress of liquid nitrogen used for freezing and storage into the product. Twist-off caps on vials cannot offer this level of protection.
Advantages for clinical use
At the point of thawing and infusion into a patient, a bag of cord blood represents a significantly more streamlined option than multiple screw top vials which have to be opened to allow product removal thus risking contamination. Sealed cord blood bags which are thawed in overwrap bags to protect them. They have ports to insert sampling spikes which allows for safe aseptic product removal and they can easily be flushed to remove residual product. Healthcare teams are very conversant with the use of bags when working with blood products.
Re-freeze of surplus cord blood product
If units are supplied to suitably experienced transplant centres it is possible for a bag of cord blood to be thawed, washed, cell numbers counted and a portion used with the rest being aliquoted and re-frozen.
At Duke University Medical Center, USA, this process has been undertaken with some SCI units and patients have been able to have several sequential treatment episodes.
---
Expert opinion
In the Parent's Guide to Cord Blood newsletter "Dr. Joanne Kurtzberg of Duke University Medical Center is who is described as " the world's leading innovator when it comes to advancing the frontiers of diseases treated with cord blood stem cells" advocates the use of bags. Dr Kurtzberg comments "today, banks should store cord blood units in cryopreservation bags (freezing bags) with attached segments for identity, potency, and other future testing".
The information above has been written by our Scientific Director, Dr. Ann Smith who has many years of first hand experience in cord blood transplantation in the NHS working to U.K. and international standards.