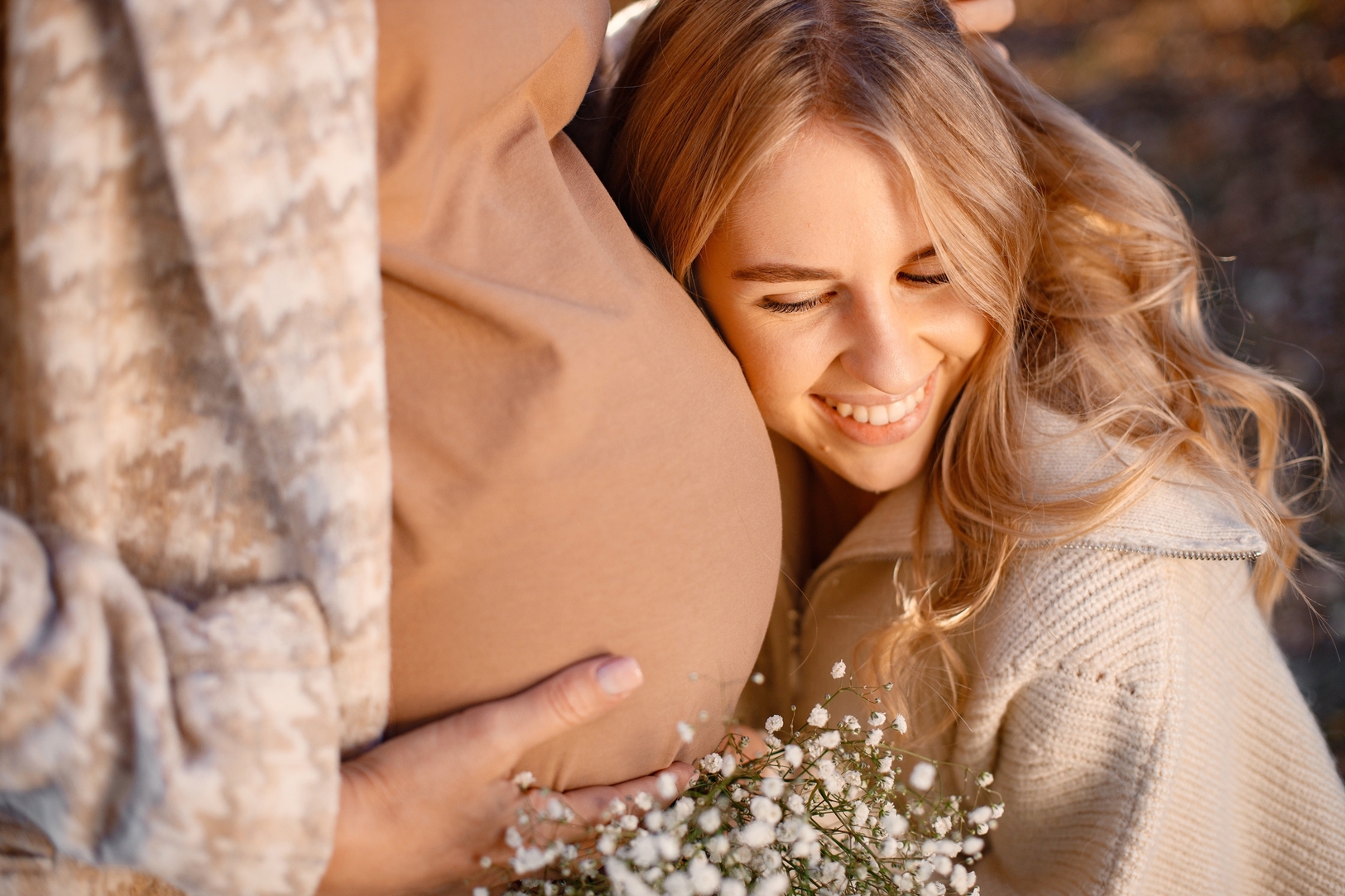 Any pregnancy journey is an exciting time for the whole family, and here at Smart Cells we love to help you know how to make the most of the months before your little one arrives. While a summer pregnancy can have a few challenges, such as making sure that you stay well hydrated and cool enough, an autumn pregnancy also has a few things to bear in mind.
Our pregnancy guide will help you navigate your pregnancy as a whole, but this guide will answer any specific questions you have about being pregnant through the season of change!
Dressing for the Season
Quickly changing weather and temperatures are the norm in the UK in any season, but autumn is a particularly changeable season. We often experience an Indian Summer in the early days and weeks of September where temperatures can sometimes even exceed the official summer months. As we head into late autumn, particularly late November and early December, we sometimes experience frost, ice and snowfall even before winter officially starts on the 21st or 22nd December!
To counter this, we suggest layering your clothing in fabrics that are warm but breathable. That way, it's easy to remove layers throughout the day if it warms up, or to pop on a jumper or coat if it cools down. 
Enjoy the Outdoors Safely
What better time to enjoy the great outdoors than autumn! The changing leaves, fresh air and nature are considered to be at their best during this season. The generally cooler weather is also brilliant for getting some exercise while pregnant, especially if you feel that you're overheating more quickly during your pregnancy, as is common.
A simple hike makes the perfect gentle exercise to do while pregnant in the autumn months to take in the changing world around you. Just be sure to wear appropriate footwear such as well fitted walking boots to help prevent slipping on wet leaves or the muddy ground.
Hydration is Still Key
Even when it's not hot outside, staying hydrated is crucial. If you're suffering from morning sickness, this is even more important.
In the UK, it's recommended to drink 6 to 8 glasses of water per day while pregnant, but across Europe, the advice is to drink a little more as you factor in the increase in energy required to fuel your growing baby and body. Water alone is a good choice, but you could also substitute some with milk, fruit juice, tea or smoothies; coffee does also count as hydration, but be wary to keep your caffeine intake below 200mg per day.
Nutritional Needs
Autumn is a brilliant time to enjoy the wonderful seasonal goodies nature has to offer us! From squash and sweet potatoes, to apples and pears, there are so many fruits and vegetables that are perfectly ripe at this time of the year. A fantastic way to think of making sure you're getting the right nutrition during pregnancy alongside taking your usual pregnancy supplements is to "eat the rainbow", and autumn is the best time to do this!
Here are a few of our favourite easy and nutritious autumn recipes for pregnancy that really make the most of the season:
Butternut Squash Soup
Ingredients: Butternut squash, onions, garlic, vegetable broth, spices (ginger, nutmeg, allspice etc.)
Method: Roast the squash, sauté onions and garlic, blend all the ingredients together.
Apple and Walnut Salad


Ingredients: Mixed greens, apple slices, walnuts, feta cheese, balsamic vinaigrette.




Method: Toss all ingredients together.
Sweet Potato and Black Bean Tacos


Ingredients: Sweet potatoes, black beans, taco seasoning, corn tortillas, avocado, salsa.




Method: Roast sweet potatoes with taco seasoning, assemble all ingredients into the tacos.
Pear and Spinach Smoothie


Ingredients: Pear, spinach, banana, almond milk, chia seeds.




Method: Blend all ingredients until smooth.
Exercise Indoors
We've already mentioned how the weather during autumn can be particularly changeable, but there will be many days where it's also not favourable at all. On these occasions, making sure that you continue to move your body is still just as important, so we'd suggest taking your exercise inside.
Consider joining a pregnancy yoga class where the moves have been designed specifically for your condition. This can even be done from the comfort of your own home in a virtual class or following a video if required, but an in person class is very helpful to guide you safely through what is recommended during pregnancy. Yoga or pilates are a great choice during pregnancy to keep your body moving and to prepare you both physically and even mentally for the birth.
Preparing for Winter
As the colder months approach, you may want to consider your wardrobe and baby's, especially if your due date is towards the end of autumn or in early winter. Newborns cannot regulate their own body temperatures, so you'll want to make sure you have plenty of options to keep them warm, including woolly hats, footed babygrows, vests and cosy outer layers. Do keep an eye on them when they're wrapped up though, as well as getting cold easily, babies can also overheat quickly too, so make sure to remove additional layers when you move inside from cold weather outside. The best way to check how warm a baby is is to feel their chest and the back of their neck just underneath their clothes.
You may also want to bear in mind your birth choices, such as where you plan to give birth and how accessible it is, considering how you will get to the hospital in case of adverse weather conditions. Ensure that you have a plan in place if the roads are icy and have given yourself plenty of time to avoid any stress on the big day.
Skincare in Autumn
The changing weather can make your skin feel dry and sometimes sore. You may already have introduced a new skincare and body care routine during pregnancy, but it's important to be aware of which products are safe for pregnant women to use. 
There are a few ingredients to avoid in your skincare during pregnancy as doctors cannot be certain how they will affect a developing baby. The main ones that you're likely to come across and should check for are retinoids, which are usually used in anti-ageing products, salicylic acid, often used in skincare used to treat acne prone skin, and oxybenzone, usually found in sunscreen. There are others that are not as widely used, so it's always worth double checking your usual skincare routine.
Flu Jabs and Vaccinations
In the UK, the NHS recommends that women receive a few vaccinations during pregnancy. During the autumn and winter months, the flu vaccine is strongly recommended as your immune system is weakened during pregnancy and you're less able to fight off infections that may result from the flu.
There are two other recommended vaccinations that the NHS recommends for pregnant women. The whooping cough vaccine allows antibodies to pass through to your baby before birth, as whooping cough is a very serious infection for young babies. Babies are also offered this vaccine at 8 weeks old too to provide the additional protection needed. The COVID-19 vaccine is recommended as you are at a higher risk of becoming seriously ill from COVID-19 during pregnancy.
Prepare for Sleep
We all know how crucial sleep is while pregnant and afterwards, but it's likely you'll be wanting more of it all the time! You also may want to factor in the clocks changing in late October as that may affect your sleep patterns and routine.
To help you get the best sleep possible during an autumn pregnancy, we'd suggest making the most of your sleep environment to start with. Prepare your bedroom so that it's a comfortable sleep sanctuary, with blackout curtains and white noise if required, as well as pregnancy pillows to support your changing body. Limiting caffeine and sugar, especially towards the evening, can help your body to calm down and improve sleep quality. Staying active will also help you to drift off better as you lay down at night.
Capture the Moments
Finally, don't forget to enjoy this special time! Make memories with your partner or family, perhaps make the most of the beautiful season by investing in an autumn-themed maternity photo shoot.