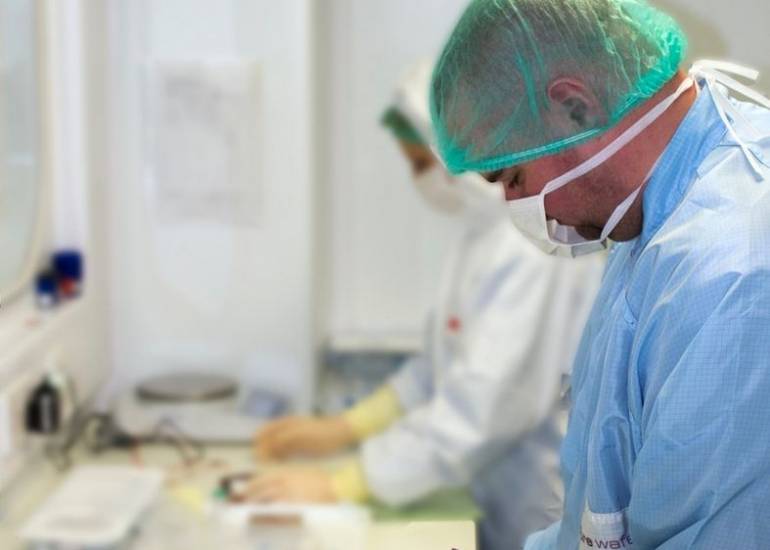 Privacy Policy
Your privacy is important to us. We value the trust you have placed in us, and are committed to protecting and safeguarding any personal information you give us.
This document, which we update from time to time, describes how we use and process your Personal Information. It also tells you how you can contact us if you have questions about your Personal Information.
Smart Cells offers cord blood/tissue services through its own websites and through other online platforms such as partners' websites. The information that follows applies to all of these platforms.
What kind of Personal Information does Smart Cells use?
In accordance with the Data Protection Act (2018) and as outlined in our Data Protection Policy, "Personal Information" is any information provided by you, the Customer, that is specific and can be used to identify you, either alone or in combination with other information.
Smart Cells collects and stores Personal Information to provide our Products and Services, maintain our accounts and records and to support and manage our staff.
We process the following types of Personal Information:
Registration Data – during the order, registration and payment process we will collect delivery and payment information/financial details. We will automatically create a member's account for you. Registration Data shall not be passed to third parties without prior consent, unless there is a legal obligation or judicial order.
User Content – when you visit our website, even if you do not order any product, we may collect certain information, such as your IP address, which browser you're using, and information about your computer's operating system, application version, language settings and pages that have been shown to you. If you are using a mobile device, we might also collect data that identifies your mobile device, device-specific settings and characteristics and latitude/longitude details. We might also calculate and process data related to the type of apps installed on a mobile device, such as the name of the app, an app description and the category it belongs to. All other information, including text, data, software, audio, video, photographs, graphics, messages, or other materials generated by using Smart Cells Products or certain social media services and transmitted, whether publicly or privately, to or through Smart Cells are considered to be "User Content". None of this information by itself will be able to tell us who you are, but it can still considered to be Personal Information.
Why does Smart Cells collect, use and share your personal details?
Provision of Products and Services
First and foremost, if an account is registered or a Product order placed, we use your Personal Information to complete and administer your orders and forward required delivery details to the depots that ship your stem cell collection kit and other merchandise.
Customer service
Sharing your details with our customer service staff allows us to assist when you need us, such as responding to queries related to your orders, test, training and nutrition plans.
Customer reviews
We may use your contact information to invite you to answer a short questionnaire regarding your experience with our website, our customer service or the information provided to you in our member area. The survey results will be used to help us better understand and improve the service we provide to all our customers.
Marketing activities
We also use your information for marketing activities, as permitted by law. For example, you may choose to subscribe to our newsletters in order to receive emails notifying you of any new products or analysis we are offering. You can opt out of this service at any time by clicking on the 'unsubscribe' link in any emails we send to you.
Other communications
There may be other times when we get in touch by email, by phone or by texting you, depending on the contact information you share with us. There could be a number of reasons for this:
We may need to respond to and handle requests you have made.
If you have not finalised an order online, we may email you a reminder to continue with the order process.
When you use our services, we may send you a questionnaire or invite you to provide a review about your experience with Smart Cells.
Market research
We sometimes ask our customers to take part in market research. Any additional personal details that you give us as part of the market research will be used only with your consent.
Fraud detection and prevention
We may use Personal Information for the detection and prevention of fraud and other illegal or unwanted activities.
Improving our services
Finally, we use Personal Information for analytical purposes, to improve our Products and Services, to enhance the user experience, and to improve the functionality and quality of our online platform.
Research and Development
For clarity, your Registration Data will not be shared with any third parties without your express consent unless there is a legal obligation or judicial order.
You have the choice to participate in other Smart Cells Research for which your explicit consent will be sought beforehand. Research and Development activities may include, but are not limited to:
performing quality controls
trialling new protocols, techniques or equipment
sharing information with academic groups and other third parties to advance their studies
performing data analysis. Some of these activities may result in commercialisation with a third party
As part of this process, Registration Data will be removed from Genetic Data and Self-Reported Data, and the latter two will then be combined to generate anonymised results, which will then be pooled to draw relevant conclusions. For clarity, your Registration Data will not be shared with any third parties without your express consent unless there is a legal obligation or judicial order.
Sharing of data
How does Smart Cells share your data with third parties?
In certain circumstances, we may share your personal data with third parties.
Your orders
In order to deliver your orders, we need to transfer relevant delivery details to suppliers, contractors and other service providers. This may include information such as your name, contact details (email, address and telephone number) and address details you specified when making a booking. Additionally, we may need to share your information with business associates and other professional advisors in order to provide you with our Products and Services.
Competent authorities
We may share your Personal Information with governmental or investigative authorities if we are required by law (or any regulation having the force of law) to do so. Such requirements include court orders, subpoenas and orders arising from legal processes and criminal investigations. We may also disclose your personal data if it is strictly necessary for the prevention, detection or prosecution of criminal acts.
Security
What security procedures does Smart Cells put in place to safeguard your Personal Information?
Smart Cells takes the security and confidentiality of your Personal Information extremely seriously and maintains a high level of protection so that third parties do not unnecessarily gain access. In accordance with UK and European data protection laws, we use appropriate business systems and observe reasonable procedures to prevent unauthorised access and the misuse of Personal Information. We also use security procedures and technical and physical restrictions for accessing and using the Personal Information on our servers. Personal Information is password protected and stored on secure servers that are only accessible to authorised personnel of Smart Cells.
Marketing emails
How can you control marketing emails?
Upon ordering products or registration, we provide options to opt out of marketing and sales emails. If you remain opted in, we hope you enjoy receiving our emails, but if you would prefer not to be kept up-to-date with our special offers, you can opt out, or unsubscribe, from marketing communications at any time using the 'Unsubscribe' link in each newsletter.
How can I find out what personal information Smart Cells holds about me?
Under the Data Protection Act you have the right to request a copy of the personal information Smart Cells holds about you and to have any inaccuracies corrected. This is called a Subject Access Request or SAR.
We allow you to make up to two SAR requests for free in any 12-month period, but we reserve the right to charge £25 for any additional information requests made in any 12-month period at our discretion.
When you make an SAR you will be required to prove your identity with two pieces of approved identification (listed below). We will use reasonable efforts consistent with our legal duty to supply, correct or delete personal information about you on our files.
Please address requests and questions about this or any other question about our Privacy Policy to Smart Cells, Unit 7 Chancerygate Estate, Horton Close, West Drayton, UB7 8EW or Email: uk@smartcells.com.
We will need two copies of forms of identification, which can be:
Passport
Driving licence
Birth certificate
Utility bill (from last 3 months)
Bank statement (from last 3 months)
Smart Cells aim to acknowledge receipt of SAR's within five working days from receipt of request. If submitting a request by post, we advise you to send via registered or signed for delivery and you should retain your proof of posting. Please state in your letter your preferred method of communication (Post, Telephone or Email).
Smart Cells will respond with SAR details within one calendar month from the date of confirmed identification of the data subject as set out under GDPR regulations however circumstances may make it necessary for an extension of up to an additional two calendar months being required in processing complex requests or during a period where a high volume of requests are being received. Where an extension is required Smart Cells will inform you within the first (one) month period and of your rights (and process) to challenge the requested extension under GDPR regulations.
Disclaimer
Smart Cells Ltd DISCLAIMS LIABILITY FOR INCIDENTAL OR CONSEQUENTIAL DAMAGES and assumes no responsibility or liability for any loss or damage suffered by any person as a result of following or misusing any of the information or content on this website. Smart Cells Ltd assumes or undertakes NO LIABILITY for any loss or damage suffered as a result of the use or misuse of any information or content or any reliance thereon.
How We Use Cookies
Like many websites we use cookies to store and then retrieve small bits of information on your computer when you visit. This information is used to make the site work as you expect it to. It is not personally identifiable to you, but it can be used to give you a more personalised web experience.
Some of the information stored is put there by other companies whose software we have added to the site, and this can also impact your experience of other websites you may visit after leaving ours.
If you continue to use this site without taking action to prevent the storage of this information, you are effectively agreeing to this use.
If you want to learn more about the general uses of cookies, including how to stop them being stored by your computer, please visit Cookiepedia – all about cookies.
Below is a list of the different types of cookies used on this site, and an explanation of what they are used for. If you would like any more information, please get in touch.
• Strictly Necessary Cookies
These cookies are necessary for the website to function. They are usually only set in response to actions made by you which amount to a request for services, such as logging in or filling in forms.
You can set your browser to block or alert you about these cookies, but some parts of the site will not then work. These cookies do not store any personally identifiable information.
• Performance Cookies
These cookies allow us to count visits and traffic sources so we can measure and improve the performance of our site. They help us to know which pages are the most and least popular and see how visitors move around the site.
All information these cookies collect is aggregated and therefore anonymous. If you do not allow these cookies we will not know when you have visited our site, and will not be able to monitor its performance.
• Functionality Cookies
These cookies enable the website to provide enhanced functionality and personalisation. They may be set by us or by third party providers whose services we have added to our pages.
If you do not allow these cookies then some or all of these services may not function properly.
• Targeting Cookies
These cookies may be set through our site by our advertising partners. They may be used by those companies to build a profile of your interests and show you relevant adverts on other sites.
They do not store any personally identifiable information, but are based on uniquely identifying your browser and internet device. If you do not allow these cookies, you will experience less targeted advertising.
Images & Videos
All images and videos are licenced, purchased or produced by Smart Cells.
Royalty free images sourced under creative commons licence from Pexels, Pixaby & Unsplash.
Red Blood Cells video: Under Creative Commons Licence and Royalty Free from Production Crate