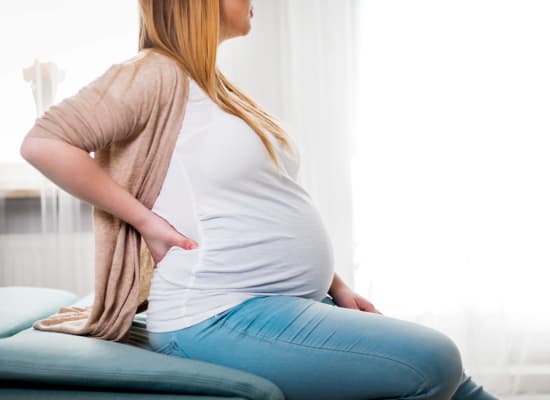 Congratulations on reaching week 32 of your pregnancy! You should be proud of this achievement during this beautiful time in your motherhood journey.
At week 32 it's estimated your baby is the size and weight of a coconut at 41.1cm long from head to heel.
Your baby and bump are still growing. In a few weeks, both you and your baby will experience a final growth spurt. Your midwife or doctor might measure your stomach to estimate the size of your uterus. 
Your healthcare professional will also check your baby's position. Some babies will be head down, ready for birth, while others might still be head up (breech). If the baby remains in the breech position, it could affect the type of birth you have.
During pregnancy, it's common for women to experience fatigue, which can be attributed to a variety of factors such as the surge in hormones.
You'll notice an increase in kicks as your baby is very active at this point. Your baby can now recognise voices outside the womb.
By now you will have prepared for your baby's birth. Consider getting a crib and avoid using pillows or heavy duvets, instead use a baby sleeping bag or light blankets.
Talk to your workplace about maternity rights and ensure a safe working environment.
Rest and recovery are essential. Light exercise or walking is too. It is advised to aim for 150 minutes of exercise a week.
Online antenatal classes are a simple and modern way to prepare for your baby's arrival.
Here's why you should attend online antenatal classes:
Convenience:

Learn from home, no need to travel.

Flexible Timing:

Watch and learn when it suits you.

Wide Range of Topics:

Covers labour, baby care, and more.

Interactive:

Chat with other parents and ask questions.

Expert Advice

: Get tips from professionals like midwives.

Cost-Effective

: Often cheaper than in-person classes.

Partner Involvement

: Both parents can easily join.

Re-watch Option

: Go back and review any topic.

Safe

: No health risks like in crowded places.

Community

: Connect with other expecting parents.
Seek help if you are feeling anxious. Consult with professionals or loved ones about your feelings. Having a midwife or doctor on hand when you're feeling stressed is essential.
The experience of each pregnancy is unique. Always consult a healthcare professional if you have questions or concerns. Don't miss out on this special time and look forward to what's to come!
References
NHS | 
https://www.nhs.uk/start-for-life/pregnancy/week-by-week-guide-to-pregnancy/3rd-trimester/week-32/