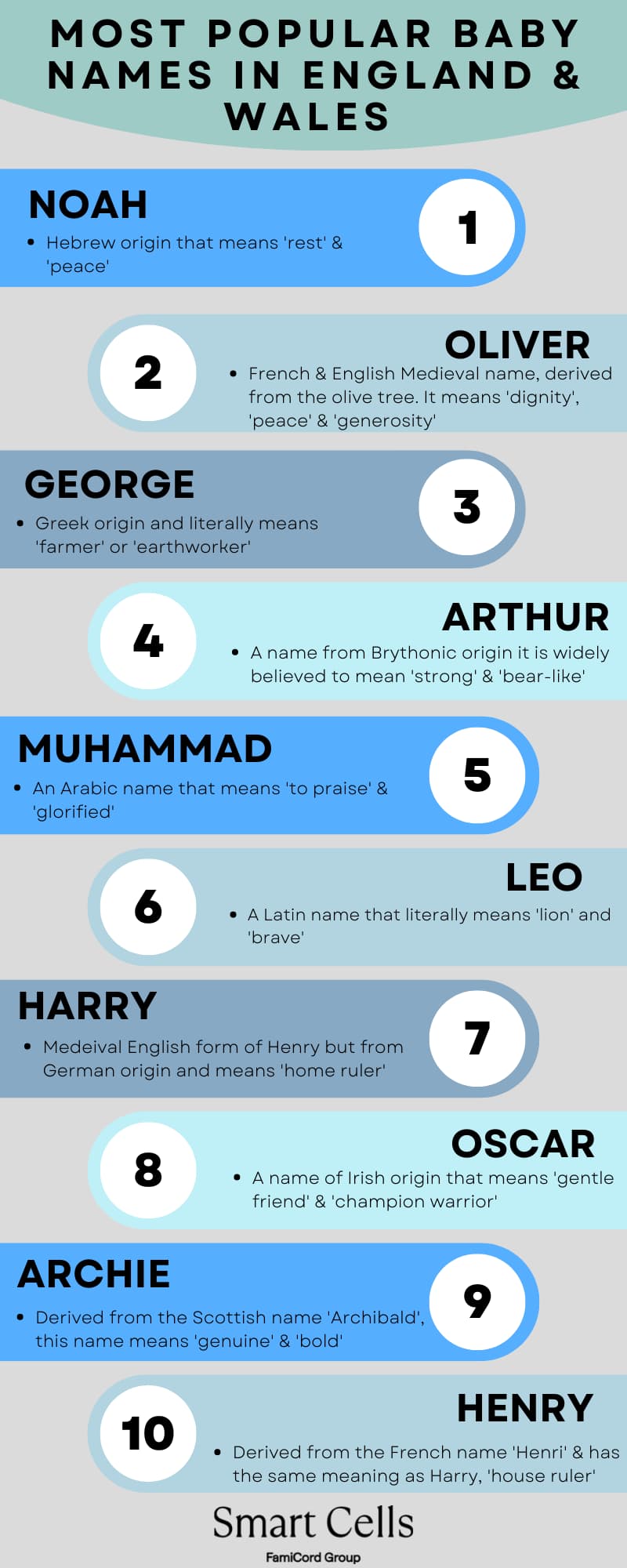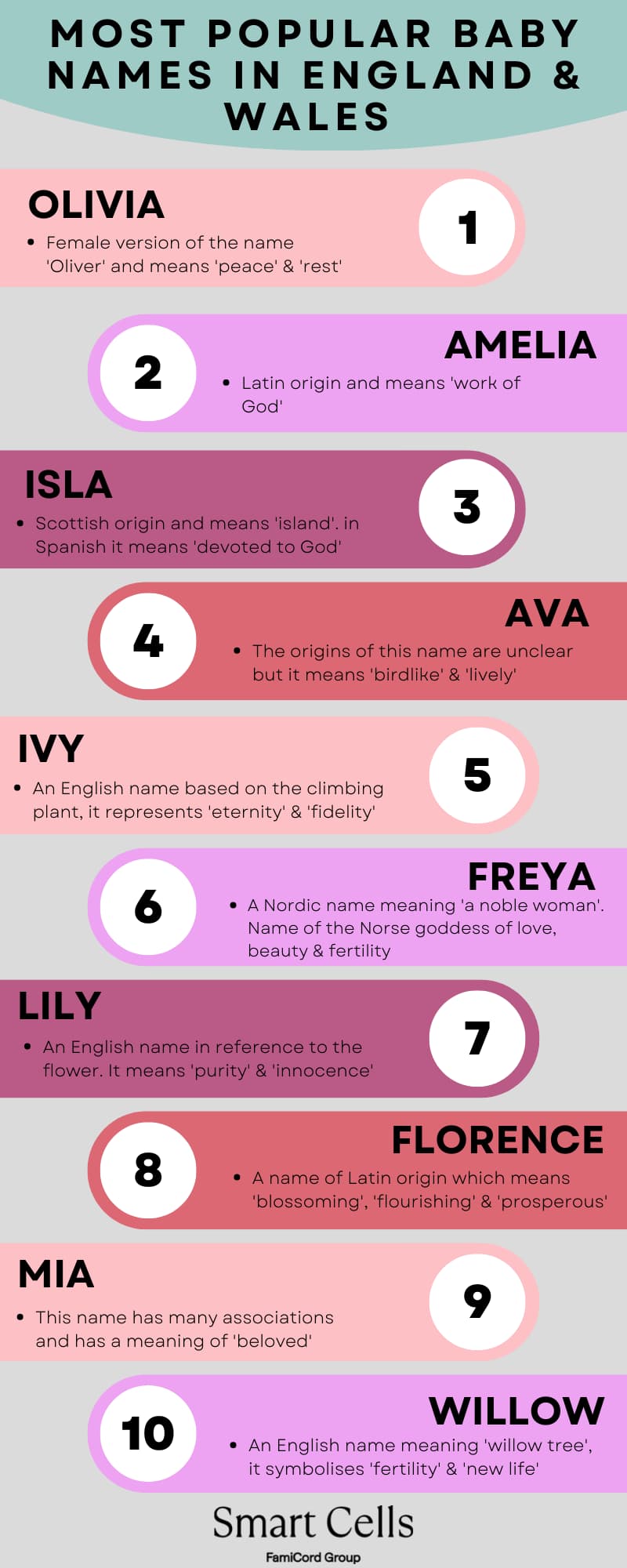 What's in a name? Well, according to Shakespeare the naming of something is merely irrelevant! However in the parenting world we know names are a hugely important part of our own identity and our children's. Names give us a sense of who we are as a person and oftentimes carry meaningful connections throughout generations.
The Office for National Statistics (ONS) have just released the latest version of the most popular baby names in England and Wales and we have all the information you need to know.
In first place for the boys is Noah which has risen 3 places since 2020 and has knocked Oliver into second place after an eight year reign at the top. Coming into 3rd place is George closely followed by Arthur in 4th place. Muhammad has remained at number 5 as well as Leo at number 6. Harry has moved into 7th place with 3089 baby boys given this name last year and Oscar is following very closely behind with 3071 little boys given this name. In 9th place is Archie and in 10th is Henry with 2912 uses. Overall we are getting strong Royal vibes from this list! We predict that the Royal theme will continue into next year and we are excited to see how and if this changes the most popular list next year.
Whilst the names at the top of the list are likely going to remain popular for the next few years, some less common names are in danger of extinction. Nathanial is one of those names with only 4 baby boys given this name last year. Another name that has decreased in popularity in recent years is Skye with only 9 little boys receiving this name last year, interestingly the same name was given a lot more to baby girls as this name came in 167th place with 309 uses.
For the girls Olivia has stolen the top spot again with this name reigning most popular since 2016! However, closely following in 2nd place is Amelia and Isla is in 3rd. Ava takes 4th spot as 2576 baby girls were given this name which is closely followed by Ivy with 2245 uses. Freya and Lily come in at 6th and 7th place with a difference of only 5 more baby girls being named Freya! Florence takes 8th place and Mia and Willow take 9th and 10th position. This heavily modern list is quite the contrast to the more traditional boys' top 10 which we think is interesting.
Just like the boys' list we can safely predict that the girls' most popular names will stick around for some time so let's have a look at some less popular names that are slowly falling off the chart altogether. Gemma and Leanne were only used 14 times each last year and even less popular was Suzanna which was only used 4 times.
Let's take a closer look at some of the most popular names and their meanings:
Noah
Noah is a biblical name with Hebrew origin and means 'rest' and 'peace'. This is a beautiful name for a little boy however we can't guarantee they will be peaceful and enjoy rest like the name suggests!
Oliver
Oliver is an old French and English Medieval name. This name was derived from the olive tree, the olive tree symbolises dignity, peace and generosity.
George
George is a name of Greek origin and literally means 'farmer' or 'earthworker'. Perfect for a little country bumpkin!
Olivia
The female version of 'Oliver', Olivia has the same meaning.
Amelia
The name Amelia is of Latin origin and means 'work of God'.
Isla
The name Isla is of Scottish origin and literally means 'island'. In Spanish, Isla means 'devoted to God'.
References
The ONS | https://www.ons.gov.uk/peoplepopulationandcommunity/birthsdeathsandmarriages/livebirths/datasets/babynamesenglandandwalesbabynamesstatisticsboys
The ONS | https://www.ons.gov.uk/peoplepopulationandcommunity/birthsdeathsandmarriages/livebirths/datasets/babynamesenglandandwalesbabynamesstatisticsgirls
The ONS | https://www.ons.gov.uk/peoplepopulationandcommunity/birthsdeathsandmarriages/livebirths/bulletins/babynamesenglandandwales/2021