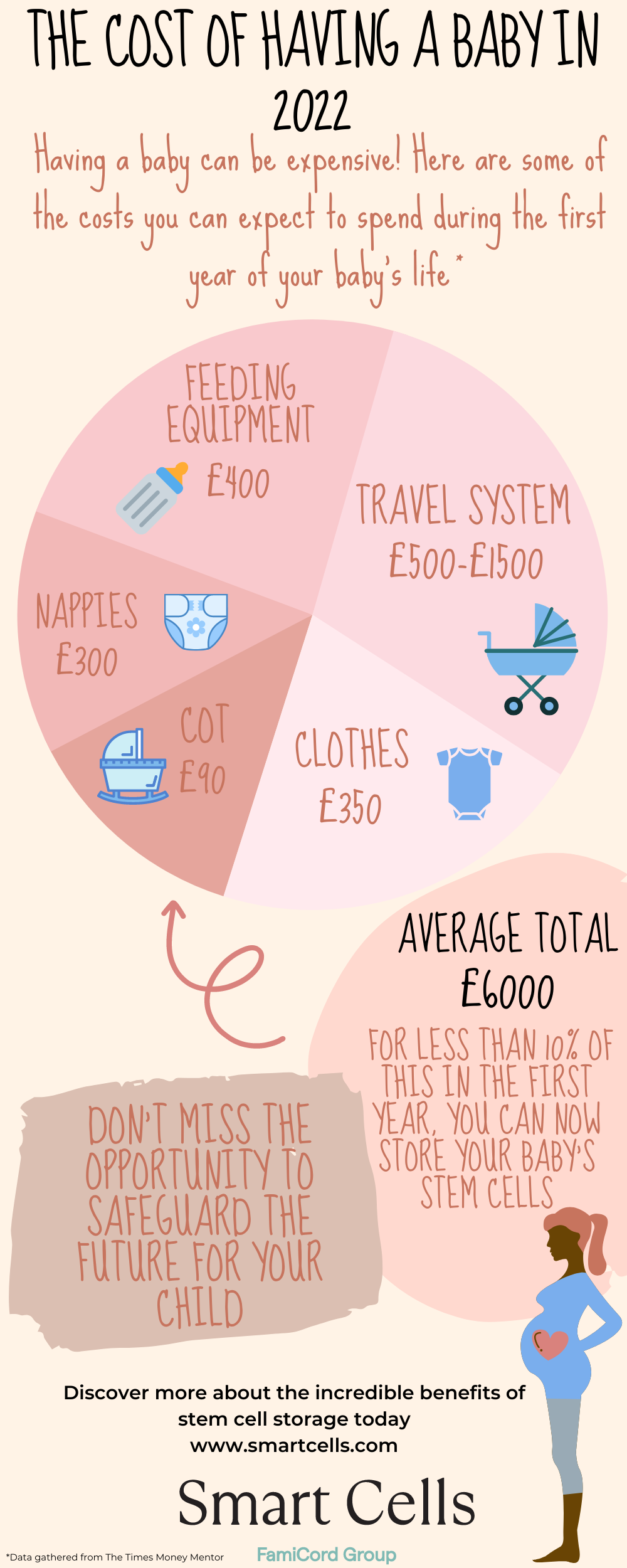 Thinking of starting a family? There is no doubt that having a baby is simply wonderful but the costs of expanding the family can be sizable. Through independent data sources and research online, on average, families in the UK spend around £6,000 during the first year of their baby's life. It's important to highlight here that this is an overall average cost and some families choose to spend less whilst some exceed this figure depending on spending habits and brands chosen to shop with. However, this cost is only predicted to rise with the cost of living only ever increasing. 
Naturally, initial costs vary depending on if you're expecting your first or second, third or fourth child! If this is your first baby then you will need to buy big one-off purchases such as a pushchair and cot, however, if this isn't your first rodeo then you may already have some essentials you can re-use! 
So, let's explore some of the initial costs you can expect when having a baby in 2022.
Car Seat 
It goes without saying that it is essential to have a safe car seat ready for your baby, in fact, it's not uncommon for your midwife or health visitor to ask that you have one ready in case of an early arrival. It's recommended that you buy a new car seat as it's important to know it has never been involved in a car accident and that it is in perfect working condition. On average, and depending on brand, these typically cost between £100-£200.  
Clothes 
If you already have children then you may have saved yourself an extra expense of filling your newborn's wardrobe! The cost of this is totally subjective and depends on how and where you shop, but it's safe to say that babies need clothes…and a lot of them! After the spit up and nappy blow-outs you will find your newborn has more outfit changes in a day than you do all week! Not to mention how quickly little ones grow, so it's always a good idea to be stocked up on essentials of the first few sizes. Don't worry too much about buying lots of outfits as these aren't really essential in the early days and you will find people tend to buy outfits for your baby as gifts. Just focus on buying the basics like vests and baby grows which your newborn will live in. For your baby's newborn wardrobe, you should budget around £60 to fill this with the essentials if you shop smartly. It's important to stress here that this is an average cost and a lot of parents choose to spend much more than this!
Cot
Your baby will need somewhere safe to sleep, so you will need to buy them a cot. Some people choose to put their baby in a moses basket to start with and then move up to a crib or cot as they get bigger. It's recommended to buy a new mattress for your baby and moses baskets can be purchased for around £70 – £90 if this is the option you choose. Many parents opt to spend more money in this department as newborn's need a lot of sleep. This cost soon adds up when you add bedding and blankets as well. 
Nappies 
Nappies are expensive, there's no two ways about it, and babies get through a lot of them. Depending on which brand you choose for your little one, nappies in the first few months can set you back around £25 a month, and that's not including wipes or cotton wool. You may want to explore reusable nappies so it's worth doing your own research into what type is going to be the best choice for you and your family. However, disposable nappies are what is generally recommended for the newborn stage. 
Feeding Equipment 
Whether you decide to breast or bottle feed your baby, each method comes with it's own expenses. If you decide to breastfeed then you will need to invest in a couple of nursing bras, good quality ones will help to support your changing breasts and allow for easy feeding. You may also choose to buy a breast pump and storage containers, if so then you will need sterilising equipment as well. Formula fed babies will need a supply of formula milk, bottles and sterilising equipment. Prices of these items vary hugely depending on brand and functionality, for example, breast pumps can cost anywhere between £20-£400 so it's very important to do your research and know exactly which one you want before you commit. 
Pram/Pushchair
Now it's important to shop around here, more often than not buying a travel system works out cheaper than buying single items. A travel system includes a car seat, pram and pushchair, and usually a lot of extras too like a rain cover and footmuff! Again this cost can vary hugely depending on brand and what's included, but expect to pay anywhere between £200-£1500!
Stem Cell Storage   
All of the essentials we have discussed already are vital to your baby's safety and wellbeing, so what if you could secure the future of your child's health? Stem cell therapy could save the life of your child or their sibling in the future if the need for treatment arises. Stem cells are able to treat more than 80 life threatening conditions and there is current research underway looking into other diseases these incredible cells could treat or cure. Having this peace of mind for possible worst case scenarios is priceless when compared to the cost of other immediate essentials. With Smart Cells, stem cell storage has never been more affordable for families, you could store your baby's precious stem cells for around £1.07 per day… that's cheaper than the average daily cup of coffee!