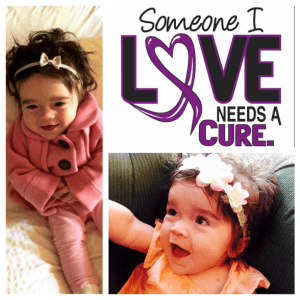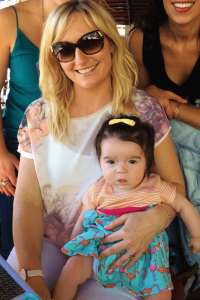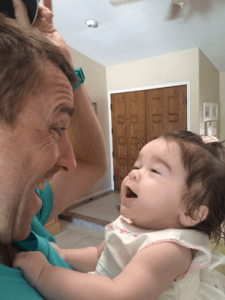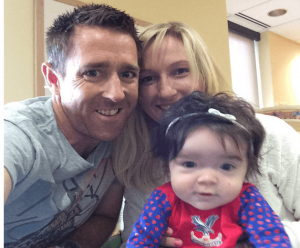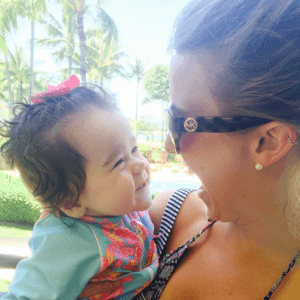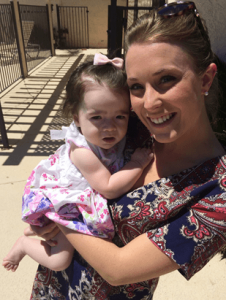 On 3rd September 2015, Lyla Rose Edgington made her debut amidst cheers and love and great anticipation of what would be.
Lyla's parents, Helen and Steve, decided to move back from Australia to the USA where Steve would be the tennis professional at the Phoenix Country Club. Everything seemed perfect. On March 21 of 2016, when Lyla was just 6 months old, after a few symptoms were noticed by her paediatrician, Lyla was tested for a rare genetic disease "just to rule it out"…
On April 4th, the tests came back positive indicating that Lyla had MPS1. MPS1 is a rare, progressive disease that affects the cells and doesn't allow the individual to produce enzymes or do so in low amounts, and results in glycosaminoglycans (GAGs) accumulating in the lysosomes. The effects of this can be devastating, affecting all organs and areas of the body including mental development. The most severe category of MPS Type 1, known as Hurler syndrome, which Lyla has been diagnosed as having.
Helen and Steve immediately began working with physicians on a "game plan".
The University of Minnesota (Masonic Children's Hospital) is known to have a group of doctors that specialize in treating and minimizing symptoms of MPS through stem cell transplant. After a skyping session between the Edgingtons and Minnesota Children's Hospital, the decision was made to take Lyla there as soon as possible.
The plan was:
Over the course of 1 week in Minnesota to do the blood work needed to start the process of finding a stem cell donor, put in a feeding tube for Lyla to maintain nourishment, and to put in a port for IV transfusions.
After that week in Minnesota, the Edgingtons would return to Phoenix where Lyla would begin, for the next 8 weeks, enzyme replacement therapy. Once the 8 weeks were complete, Lyla would return to Minnesota where she would receive 1 week of chemo, followed by a stem cell transplant using either donated cord blood or an unrelated bone marrow donor. After the transplant, Lyla would have to remain for 100 days, infection free, and then could return to Arizona.
Once back in Arizona Lyla will hopefully live a pretty normal life.
Only a few weeks after the blood was submitted to find a donor, the Edgington's were notified that a perfect 6 out of 6 cord blood match was found. On July 5 of 2016, the Edgington's set off to Minnesota to start Lyla's transplant process. Lyla's stem cell transplant went as planned and Lyla is now 75 days post transplant and doing fantastic.
When did you first feel that Lyla was unwell?
At 4 months old Lyla's paediatrician noticed a heart murmur and one month later I noticed a sharp curve in her spine. MPS I is a progressive disease so symptoms slowly appear and the disease often goes undetected in the first few years of life. We are lucky her paediatrician noticed the heart murmur and connected the dots that both symptoms could be a genetic disease. Starting soon the disease would have impacted her mental capacity and any damage (mental or physical) is irreversible even with a stem cell transplant. Early detection is key in a lot of genetic diseases.
What illness was Lyla diagnosed with? How old was she when she was diagnosed? Where was she diagnosed?
Lyla was diagnosed with MPS type I or hurler syndrome on April 4th 2016 at the age of 7 months. She was diagnosed at Phoenix children's hospital in Arizona.
What treatment was offered to Lyla for her illness?
Enzyme infusions were immediately started to help slow down her symptoms but enzymes do not stop disease progression in the brain so a stem cell transplant is the only option to stop both physical and mental deterioration.
How did you find out about stem cell treatment as an option?
Lyla's genetic doctor (who diagnosed her) was very knowledgeable about treatment of Hurler syndrome via stem cell transplant and immediately
Were Lyla's medical team familiar with stem cell treatments for her condition?
Yes, it was well known with her medical team that stem cell transplant was the best option. They knew the University of Minnesota was also the best place for her transplant because they are one of three locations in the world specializing in treating Hurler syndrome via stem cell transplant.
Where did you take Lyla for her treatment?
University of Minnesota in Minneapolis – Masonic Children's Hospital
What steps did they suggest in performing this treatment?Did they tell you what the likelihood of finding a match would be?
They told us straight away that cord blood was the best option for treating Lyla. An unrelated donor was also an option but would take longer and because her disease is progressive, we wanted to have the transplant done as soon as possible. They said cord blood would be found using Be The Match organization and were pretty confident in finding a match of at least 4 out 6 ranking criteria which is the lowest they would accept. Lyla's match was a 6 out of 6!
How long did it take to find a match for Lyla?
It only took a few weeks to find a match.
Once the match was found how soon did her treatment commence?
The cord blood match was found mid-May and we flew to Minnesota July 5th to start work up for her stem cell transplant. Her treatment included 8 weeks of enzyme infusions, a few weeks of pre transplant work up, 8 days of chemo, stem cell transplant and 100 days of post-transplant recovery.
How is Lyla doing at present?
Lyla's transplant went so well that she left the hospital on day 18 post transplant which is nearly unheard of. She hasn't be readmitted to the hospital either which is also amazing. She's doing way beyond what we expected and exceptionally well according to her doctors. She's currently on day 75 post-transplant and we are making plans to head come before day 100 because she is doing so well.
How do you feel about cord blood stem cell collection and storage? If you knew that you could store Lyla's cord blood sample at birth would you have considered this option? Would you have donated her sample if you didn't store privately?
I have very strong feelings about this topic now. Long story short, I didn't fully understand the private banking option and with my limited knowledge, I didn't see the benefit vs the financial cost. I planned to donate Lyla's cord blood but the process was started when I was in labour at the hospital. Once I found out how much paperwork was involved, while I was in pain and in the hours after having a baby, I changed my mind and said no. The doctor almost implied that was the best option as well so I didn't have to deal with the paperwork. It makes me so sad yet inspired to teach others about the option to donate cord blood and how it can save so many lives. I love the saying "by creating one life, why not save another". I plan to forever promote and encourage people I know to donate cord blood. It is truly amazing. We have met several children in Minnesota who have received a stem cell transplant via cord blood and are doing well and would not have survived without a transplant.
What message would you like to share with parents to be who don't know anything about cord blood collection and storage whether for private storage or public donation?
"By creating one life, why not save another?" I think is the best and most impactful statement in regards to donating cord blood. Because of one parent's decision to donate their newborn's cord blood, my daughter is now able to live a normal life. Without a transplant she would be mentally and physically handicapped by age 5 and likely not live past the age of 10. We are forever grateful to the girl who saved Lyla's life and her parents for donating the cord blood.
You can read more about Lyla's incredible story at Little Lyla